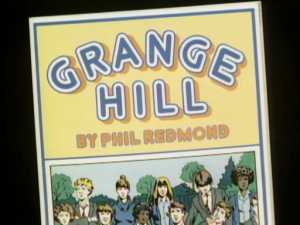 The Centre for the History of Television Culture and Production at Royal Holloway, University of London, has teamed up with the television archive organisation, Kaleidoscope, to co-host an event marking the fortieth anniversary of the BBC children's TV drama, Grange Hill.
Set in a London comprehensive school, the programme was first broadcast on 8 February 1978. Although initially conceived as a nine-part series, the programme proved so popular that it continued to be made until 2008. It also earned a reputation for its realism and willingness to tackle difficult subjects – from bad behaviour and truancy to drug use and teenage pregnancy – which also meant that it soon became a source of public controversy.
The event at Royal Holloway on 28 April 2018 will bring together a number of those involved in the making of the programme, including the original Executive Producer, Anna Home, the programme's creator and original writer, Phil Redmond (tbc), and many of the show's cast: Mark Baxter, Linda Slater, Lisa East, Joanne Boakes, Gwyneth Powell, Lucinda Curtis, Paul McCarthy, Erkan Mustafa and Ruth Carraway (via satellite). Helen Wheatley and Rachel Moseley from the University of Warwick and Maire Messenger Davies from the University of Ulster will also assess Grange Hill's importance in TV history.
40 Years of Grange Hill is designed to be an accessible event that is open to all. Tickets may be purchased at
https://www.eventbrite.co.uk/e/40-years-of-grange-hill-tickets-44096234023
All proceeds from the event will go to the Good Grief Trust, a charity that is run by Linda Magistris, formerly Linda Slater, who played Susi McMahon in Grange Hill.
The Guests
Anna Home joined the BBC in 1960. Home revived BBC children's drama including being executive producer of children's drama, and in this role commissioned the long-running Grange Hill. Anna is now the Chief Executive of the Children's Film and Television
Foundation, and chair of Save Kids' TV.  She won the Eleanor Farjeon Award in 1989, was awarded an OBE in 1993 and received the BAFTA Special Award in 1996.
Phil Redmond is a writer and producer, who wrote and created Grange Hill (BBC), Brookside(Channel 4, 1982–2003) and Hollyoaks (Channel 4, 1995—). For over twenty years he also ran his own independent production company, Mersey Television.  In 2013 Phil Redmond published his autobiography Mid-Term Report. In 2016 Phil Redmond published his first novel Highbridge. In 1989, Phil was awarded the post of Honorary Professor of Media Studies at Liverpool John Moores University. In November 2010 he was awarded an honorary doctorate from the University of Chester.  He was awarded the CBE in 2004 for services to drama. Phil is Chair of National Museums Liverpool and of the UK City of Culture Independent Advisory Panel.
The cast of Grange Hill need little introduction:
George Armstrong played Alan Humphries, part of Tucker's gang, judo enthusiast, smoker and first boyfriend of Susi McMahon
Mark Baxter played Duane Orpington, who enjoyed riding his bike to school, and was attracted towards Claire Scott
Joanne Boakes played Anita Unsworth, who lived with her gran
Lucinda Curtis played Mrs Reagan, the PE teacher and mother of Laura Regan
Paul McCarthy played Tommy Watson, part of Tucker's gang and very popular with the ladies
Linda Magistris played Susie McMahon, a shy, clever girl who learnt judo to get rid of the bullies
Erkan Mustafa played Roland Browning, who was victimised by Gripper Stebson and was nearly killed in a road accident
Gwyneth Powell played Mrs McClusky, the Headmistress of Grange Hill for many years
Lisa Skeates played Christine Everson, who was friends with Claire and Suzanne
Alan Hawkshaw composed the theme tune to Grange Hill.
The Speakers
Máire Messenger Davies is Emerita Professor of Media Studies at Ulster University, and a Visiting Professor at the University of South Wales. She specialises in the study of child media audiences, and is the author of several books including Children, Media and Culture (2010); "Dear BBC": Children, Television Storytelling and the Public Sphere (2001), Television is Good for Your Kids  (1989, 2002) and, with Roberta Pearson, Star Trek and American Television (2014.)
Rachel Moseley is Reader in Film and Television Studies at the University of Warwick and a co-founder of the Centre for Television History, Heritage and Memory Research. She has published widely on questions of identity and address in popular film and television, and in particular in relation to drama for teenagers on British television, and on stop-frame animation for the very young in the 1960s and 1970s.
Helen Wheatley is the Director of the Centre for Television History, Heritage and Memory Research and Reader in Film and Television Studies at the University of Warwick. She is currently writing about television and death and leading projects on archive television up to and into Coventry's City of Culture year. She is the author of numerous books and articles on British television history and aesthetics, including Gothic Television (2006) and Spectacular Television: Exploring Televisual Pleasure (2016).
The Hosts

John Hill is Professor of Media at Royal Holloway, University of London and Co-Director of the Centre for the History of Television Culture and Production. He was leader of the AHRC-funded research project on 'Forgotten TV Drama' and is the author or editor of various books and journals on film and television.
Chris Perry is CEO of Kaleidoscope and a Research Associate of the Department of Media Arts, Royal Holloway, University of London.
For further information on television programmes, see www.tvbrain.info
The Programme
Master of ceremonies: Tony Currie
10.00      Welcome: Professor John Hill, RHUL and Chris Perry, Kaleidoscope
10.05      Why we are here today: The Good Grief Trust
10.10      Panel 1: How it all began – Anna Home
10.50      Short break
11.00       Panel 2: the Pupils – George Armstrong, Mark Baxter, Linda Magistris, Erkan Mustafa
Midday   Blue Peter films – the 1981 Christmas competition and filming of the Christmas special
12.15      Panel 3: the Creator and Writer – Phil Redmond
13.15      Lunch break (lunch available in the Café on the Square and the Hub)
13.55      The Just Say No video
14.00      Panel 4: the Pupils – Joanne Boakes, Linda East, Paul McCarthy
14.45      Charity Auction
15.15      Tea Break (served in foyer)
15.40      Panel 5: the Teachers – Lucinda Curtis, Gwyneth Powell
16.30      Panel 6: the Legacy of Grange Hill – Máire Messenger Davies, Rachel Moseley, Helen Wheatley
17.10      Farewell and thanks – John Hill