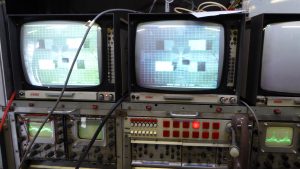 ADAPT TV History – homepage for the ADAPT project.
ADAPT YouTube Channel – Collection of ADAPT's various simulations and related media.
ADAPT Resources –  a wide range of existing personal websites which document the history of British television broadcasting.
Forgotten TV Drama – homepage for the Forgotten TV Drama project.
Forgotten TV Drama Blog – project blog, with posts contributed by John Hill, Billy Smart and Lez Cooke.
PACT/RHUL Social Media Survey – ADAPT Social Media Project's initial findings from a survey conducted with PACT.
Track Forward 1984 – Brochure accompanying exhibition of newest broadcasting technology so that staff could test and assess its potential for themselves.
Selected You Tube Resources
BBC Training Film – Videotape Editing
The Future of Non-Linear Editing (circa 1995) Part 1 & Part 2
BBC TV Studio N and Studio A, Manchester – 1979 Guided Tour
BBC Television Centre 1980s – An introduction training film about life in the BBC TV Camera Department
EMI 2001 Broadcast Camera Training Video (BBC) 1970s Part 1 & Part 2