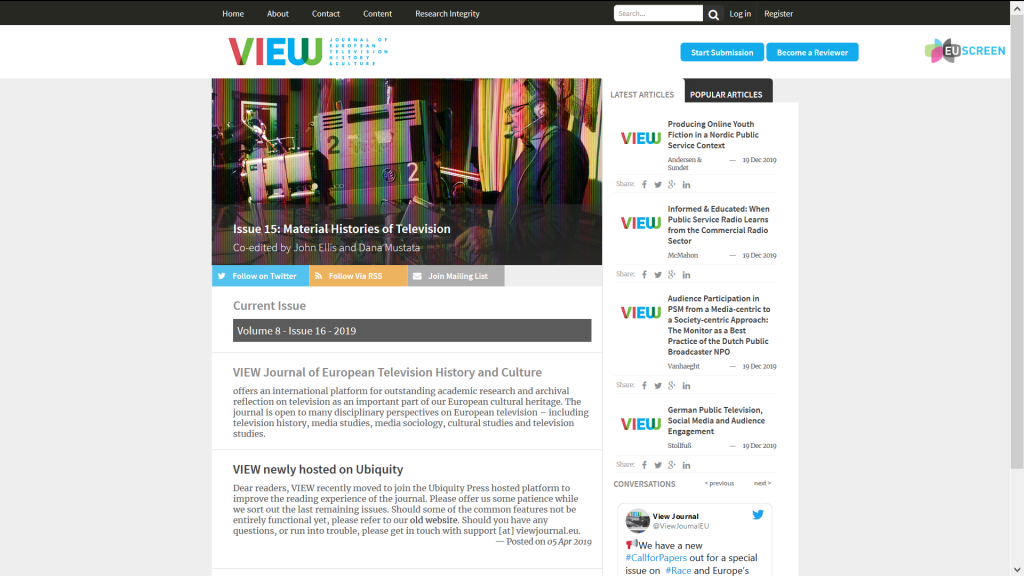 Professor John Ellis is a founding editor-in-chief of VIEW, the innovative online peer reviewed journal of European TV history and culture.
Founded in 2012, VIEW publishes two themed issues a year.
Past issues include:
John Ellis recently co-edited a special issue of VIEW on 'Material Histories of Television'. This issue also included his own article, 'Filming for Television: How a 16mm Film Crew Worked Together (VIEW 8:15, pp.91–110, 2019). DOI: http://doi.org/10.18146/2213-0969.2019.jethc167
Using an approach derived from phenomenology, the article analyses the 20 minutes of work undertaken by a veteran film crew to set up a simple interview shoot, using the 16mm film equipment that was current early in their careers.
This instance of hands on memory work was created for the ADAPT research project using an innovative method that is outlined in essays by Ellis and Murphy in Hands on Media History: A new methodology in the humanities and social sciences, edited by Nick Hall and John Ellis (Routledge 2020).
The article unpacks the professional routines and relationships of both people and technology that are at the core of television production. It reveals:
how the crew 'naturally' lapsed back into habitual working practices and physical routines with the equipment
the moments of forgetting and the occasional difficulties presented by replaying their past selves
the constraints and affordances that defined the nature of analogue television material.