StoryFutures and StoryFutures Academy: The National Centre for Immersive Storytelling are about placing innovative storytelling at the heart of the next generation of immersive technologies and experiences and fuelling the growth of the creative industries sector.
Both initiatives are funded by the AHRC and UK government, with StoryFutures based at Royal Holloway, University of London and StoryFutures Academy jointly run by the National Film and Television School (NFTS) and Royal Holloway.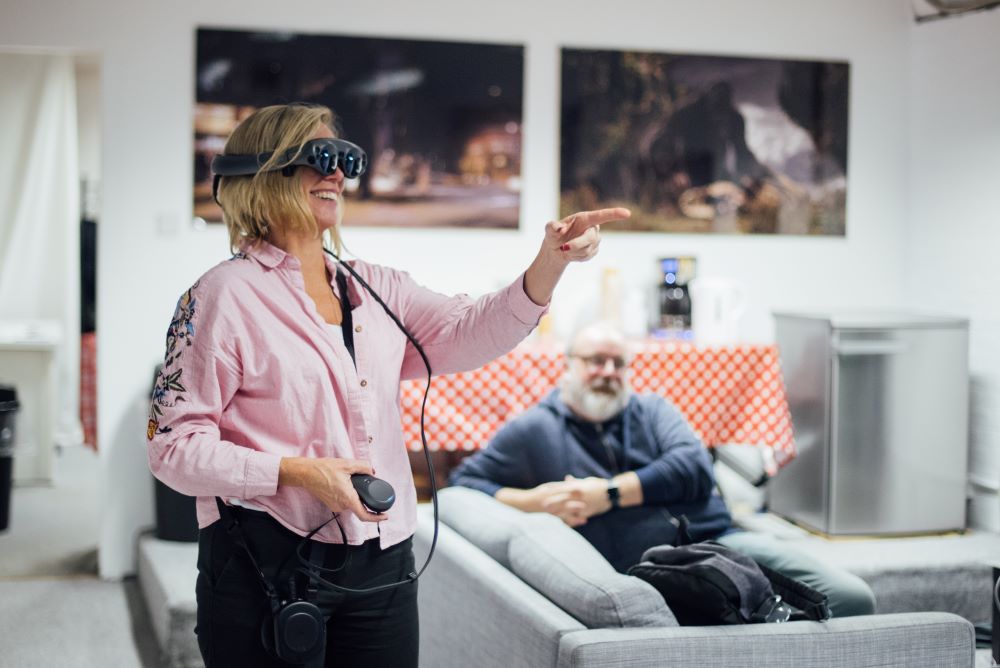 The aim of StoryFutures has been to ensure the UK creative industries, including the screen industry, are ahead of the curve when it comes to the creation of the next generation of media and immersive content. By working in partnership with industry-leaders such as the BBC, Discovery, Sony Interactive Entertainment, DNEG and Evolutions, we help companies and individuals engage in immersive content production through training, bootcamps, funding, and the fostering of co-productions.
StoryFutures also works to open up the research undertaken at Royal Holloway, University of London and other partner institutions in television, screenwriting, and technology to creative businesses in order for them to take their immersive projects to the next level.
"The talent supply chain will not change and the industry will not progress unless initiatives like StoryFutures Academy are adopted. Enabling skilled people from the traditional TV, film, and theatre industries to have access to immersive companies and vice versa leads to accelerated learning and development on both sides, plus helps to further cement the UK's position as a leader in immersive content creation. This cross-sector approach is not only innovative but highly valuable. "
Sol Rogers, CEO of Rewind
Some of the television projects undertaken by StoryFutures include:
StoryFutures and BBC3 workshop
StoryFutures Academy and BBC Three have partnered in order to create innovative new ways to engage 16 – 34-year-olds, using immersive technologies. In September 2019, six TV production companies attended a 2-day workshop. Each of them has been asked asked to devise ideas for entertaining immersive experiences and one will go into production.
Discovery partners with StoryFutures to make the virtual a reality
In collaboration with the Department for International Trade and Discovery, StoryFutures engaged with over 50 UK-based SMEs who responded to a call for new approaches to factual storytelling using immersive technologies. Brighton-based creative agency StoryThings emerged with the winning idea over a two-day virtual workshop that will now be piloted for Discovery.
StoryFutures Academy:  Skills for Immersive Creation Report
At a time of unprecedented growth, this report sets out a comprehensive understanding of the skills, the gaps and the ways to address these that are vital to the growth of the immersive experience production sector. The report is the first of its kind in the UK and aims to help businesses in the creative industries, investors, educators and policy makers make informed decisions about the way the current and future UK workforce are trained and educated.