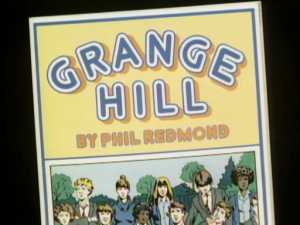 The Centre for the History of Television Culture and Production at Royal Holloway, University of London, has teamed up with the television archive organisation, Kaleidoscope, to co-host an event marking the fortieth anniversary of the BBC children's TV drama, Grange Hill.
Set in a London comprehensive school, the programme was first broadcast on 8 February 1978. Although initially conceived as a nine-part series, the programme proved so popular that it continued to be made until 2008. It also earned a reputation for its realism and willingness to tackle difficult subjects – from bad behaviour and truancy to drug use and teenage pregnancy – which also meant that it soon became a source of public controversy.
The event at Royal Holloway on 28 April 2018 brings together a number of those involved in the making of the programme, including the original Executive Producer, Anna Home, the programme's creator and original writer, Phil Redmond, and many of the show's cast: Mark Baxter, Linda Slater, Lisa East, Joanne Boakes, Gwyneth Powell, Lucinda Curtis, Paul McCarthy, Erkan Mustafa and Ruth Carraway (via satellite). Helen Wheatley and Rachel Moseley from the University of Warwick and Maire Messenger Davies from the University of Ulster will also assess Grange Hill's importance in TV history.
40 Years of Grange Hill is designed to be an accessible event that is open to all. All proceeds from the event will go to the Good Grief Trust, a charity that is run by Linda Magistris, formerly Linda Slater, who played Susi McMahon in Grange Hill.
Professor John Hill, the Co-director of the Television Centre, says:
As part of our ambition to encourage awareness of television history and debate about it, we are pleased to collaborate with Kaleidoscope and the Good Grief Trust in marking the 40th anniversary of Grange Hill by bringing together those responsible for making it, those who have enjoyed watching it and those involved in researching and writing about it."
Forgotten Television Drama, examines the history of television drama that has been lost, forgotten or critically neglected. The Forgotten Television Drama project has collaborated on a number of events at BFI Southbank, London, and venues in Belfast, Birmingham and Manchester designed to bring historically significant TV drama to contemporary audiences. In association with the DVD distributor, Network, the project has also launched its own series of 'Forgotten TV Dramas'.