Manchester, 18-29 March 2017
British television has rightly been celebrated for producing classic drama: Nineteen Eighty-Four (1954), Cathy Come Home (1966), Abigail's Party (1977) and The Singing Detective (1986) to name just four. But for every TV "classic" there are countless plays, series and serials that have been forgotten. The Forgotten season (curated by Lez Cooke) at HOME in Manchester highlighted a few of the many productions that have survived being junked or wiped, including dramas from Granada and BBC North West that haven't been seen since they were first transmitted. By bringing these neglected dramas to new audiences, we hope to act as the catalyst for rediscovering more of British TV's forgotten history.
The History of Forgotten Television Drama in the UK project at Royal Holloway, University of London is funded by the Arts & Humanities Research Council.
Sat 18 March, 3.50pm
Anastasia (Dir John Counsell and Rosemary Hill/BBC 1953/100 min)
Helen Haye, Mary Kerridge, Anthony Ireland, Peter Cushing
Based on the stage play by Marcelle Maurette, about the daughter of the Romanov family who was rumoured to have survived being murdered by the Bolsheviks, Anastasia is a prime example of the rediscovery of a television play long after it was thought to have been destroyed. Cushing gives an outstanding performance as one of the conspirators who come to realise that the woman they want to impersonate Anastasia may actually be authentic.
Tue 21 March, 6.10pm
Double Bill: The Day of Ragnarok and The Logic Game 
The Day of Ragnarok (Dir John McGrath/BBC 1965/38 min)
Elizabeth Maclennan, Tamara Hinchco, Pauline Boty, Nicol Williamson
John McGrath's remarkable short film, made for the BBC2 series Six, is about impending nuclear war. Almost dialogue-free, with an atmospheric Dudley Moore soundtrack, the film has been especially reconstructed from material surviving in the BBC Archive. (Note: 7 min of sound missing)
+
The Logic Game (Dir Philip Saville/BBC 1965/60 min)
David de Keyser, Jane Arden, Peter Henry, R.D. Laing
Also shown in the BBC2 series Six, Philip Saville's The Logic Game features two characters playing out a complex guessing game (the 'logic game' of the title). Informed by ideas of existential psychoanalysis (it includes an interview with psychiatrist R.D. Laing) the film aroused violent controversy when it was shown at the London Film Festival in 1964.
Sun 26 March, 3.30pm
Double Bill: It's Dearer After Midnight + Them Down There
It's Dearer After Midnight (Dir Michael Apted/Granada 1968/50 min)
Keith Barron, Sian Phillips
Made for the Granada anthology series City68, about a fictional Northern city, and written by John Finch (A Family at War), It's Dearer After Midnight features Keith Barron as a taxi driver and Sian Phillips as the customer he takes to a strip club in the city.
+
Them Down There (Dir Mike Newell/Granada 1968/50 min)
Patricia Haines, Bernard Lee, John Ronane, Martin Shaw
Made for the follow-up series to City68, The System, John Finch's Them Down There was Granada's first all-film drama, directed by Mike Newell (Four Weddings and a Funeral). Set in a remote valley in the Pennines, the lives of an estranged couple are disrupted by the arrival of two builders, with tragic consequences.
Mon 27 March, 6.10pm
Home and Away
 EP.3: What is to be Done + EP.4: Past Talking To (Dir Roy Battersby/Granada 1972/100 min)
Q&A with director Roy Battersby
Gillian Raine, George Sewell, Tony Melody, Barbara Horawianka
Written by Julia Jones, Home and Away was a seven-part Granada serial about a woman reaching middle-age who decides to return to work in a quest to regain her independence. In these two episodes, filmed in cinema verite-style by director Roy Battersby, Brenda's new job takes her behind the Iron Curtain on a trip to Poland with her boss.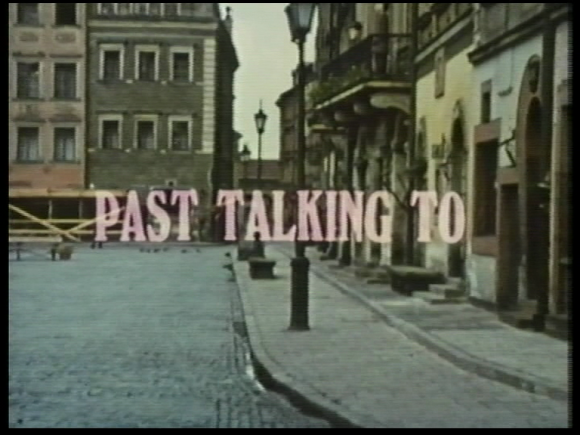 Wed 29 March, 6.20pm 
Triple Bill: Sense of Place
From the Roots Came the Rapper (Dir Colin Bucksey/BBC North West 1978/30 min)
Tommy Boyle, Margot Leicester, Jackie Fishel
Sense of Place was an anthology series produced by BBC North West in Manchester. In Janey Preger's From the Roots Came the Rapper Kevin is an aspiring Stockport DJ, dreaming of fame and fortune in the USA, but his debut in a local club does not get the reception he had hoped for.
+
Lamaload (Dir Matthew Robinson/BBC North West 1979/30 min)
Virginia Moore, Stewart Bevan
Written by Alan Garner, Lamaload is set in a remote valley in the Peak District where Jane grew up. Returning as an adult she is shocked to find the valley has been flooded to become a reservoir and the house where she was born is an empty shell.
+
Find Me First (Dir Matthew Robinson/BBC North West 1979/30 min)
Avis Bunnage, Annette Crosbie
This little-known drama by Shelagh Delaney is about two sisters who meet by chance after one has been missing for three years. Avis Bunnage and Annette Crosbie give marvellous performances as the sisters.