NFT3, BFI Southbank, London, 22 February 2017, 11-6pm

An event co-hosted by the BFI, Learning on Screen/BUFVC and the Centre for the History of Television Culture and Production, Royal Holloway (in association with the AHRC-funded 'Forgotten Television Drama' research project)
Rationale
to bring archivists, television professionals, academics and enthusiasts together to discuss areas of mutual interest and benefit
to discuss the challenges involved in the provision of information on, and access to, historical television material (particularly forgotten and less well-known television drama)
to consider how the relationships between archives, broadcasters and HEIs may be further improved
to consider the ways in which archives, broadcasters and HEIs may work together to develop access to information and holdings, collaborate to make historical television drama better understood and to increase its educational, cultural and commercial value.
Schedule
Virginia Haworth-Galt (Chief Executive, Learning on Screen/BUFVC)
John Hill (Professor of Media, Royal Holloway, University of London)
11.10-12.40        Panel 1: Archives, information and access
Chair:    Lez Cooke (Royal Holloway, University of London)
Dale Grayson (Director of Content Management and Information Policy, ITV)
John Wyver (Writer and producer with Illuminations and Senior Research Fellow, University of Westminster)
Gabriele Popp (Head of Collections and Information, BFI)
Sue Malden (Media Archive Consultant)
Jake Berger (Product Manager, Research and Education Space, BBC Archive and Development)
12.40-13.30        Lunch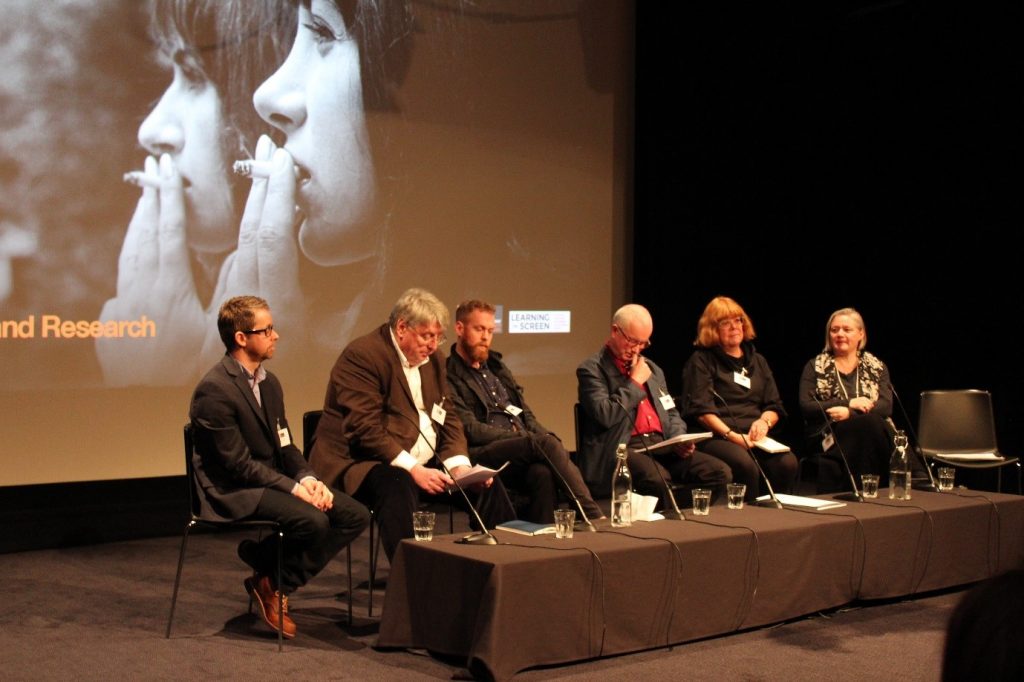 13.30 -15.00       Panel 2: Availability and exhibition
Chair: Hilary Bishop (Project Director, Research and Education Space, BBC)
Andrew Yeates (General Counsel, Educational Recording Agency)
Sergio Angelini (Head of Membership Services and Information, Learning on Screen)
Tim Beddows (Managing Director, Network Distributing Ltd)
John Ellis (Professor of Media Arts, Royal Holloway, University of London)
Dick Fiddy (Writer, researcher and TV archive programmer, BFI Southbank)
15.00-15.30        Tea Break
15.30 -17.15       Panel 3: Research, education and use
Chair: John Hill (Royal Holloway, University of London)
Bill Thompson (Partnership Lead on Make it Digital and Head of Partnership Development, BBC Archive and Development)
Luke McKernan (Lead Curator, News and Moving Image, British Library)
Lisa Kerrigan (Television Curator, National Archive, BFI)
Virginia Haworth-Galt (Chief Executive, Learning on Screen/BUFVC)
Simon Coward (Research Manager, Kaleidoscope)
Jamie Medhurst (Reader in Media History, Aberystwyth University)
17.15 -18.45
Reception/Launch of the Centre for the History of Television Culture and Production, Department of Media Arts, Royal Holloway, University of London (with James Quinn, Commissioning Editor, Sky and Kate Maddigan, former Commissioning Editor ITV).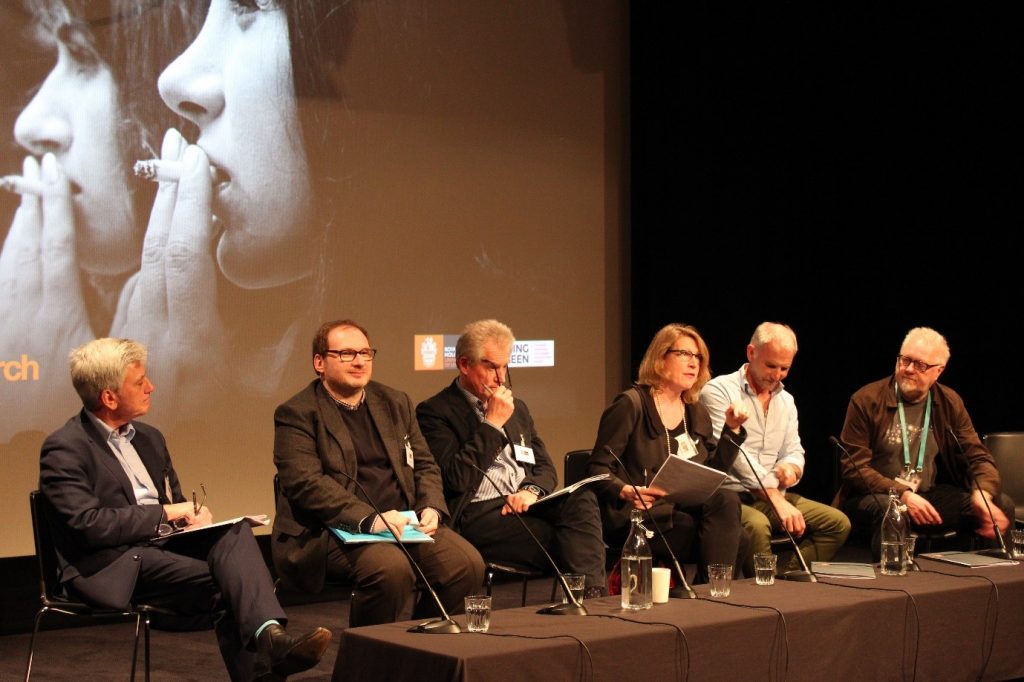 Notes on panellists

Sergio Angelini is Learning on Screen's Head of Membership Services and Information. He gained his degree in Law from LSE and MA in Film Studies and Film Archiving from UEA. Before joining Learning on Screen, he worked at British Movietone and the British Film Institute. For eight years he wrote the home video TV review column for Sight & Sound magazine; and for ten years he was the editor of the educational quarterly, Viewfinder. His other publications include (as editor), The Researcher's Guide: Film, TV, Radio, and Related Documentation Collections in the UK; and, as translator, Cinema Before Cinema: The Origins of Scientific Cinematography by Virgilio Tosi.
Tim Beddows is Managing Director of Network Distributing Ltd. And has spent the majority of the last 20 years getting his hands, his keyboard and his laptop screen very dirty, literally. He regularly haunts the archives in pursuit of something forgotten, neglected, overlooked, lost or, at the very least, interesting. His Network label has built up a vast catalogue of unsung heroes (and villains) of the silver screen and the box in the corner. Many of the titles of the Network catalogue haven't been seen anywhere for decades, sometimes deservedly so, whilst many of those that have are premiered painstakingly restored. That work continues two decades on.
Jake Berger joined BBC News nearly 20 years ago after training as an Organisational Psychologist. Since then he has worked in a variety of roles across production, technology and arts, and now works on archive innovation projects in the Archive Development team in London.
Jake's projects have included BBC Genome – an online database of all the BBC's programme listings since 1923; The Research and Education Space – an aggregator of cultural heritage data for use in education, which has made around 2 million BBC programmes available in UK schools and universities; and most recently, BBC RemArc – an online reminiscence archive for people with dementia.
Hilary Bishop is the Editor of the BBC's Archive Development team and also leads the Research and Education Space (RES) project.  She is responsible for the BBC Genome project, the creation of a public-facing catalogue of all the BBC's output from 1923 to 2009. She is also BBC Project Director for RES, a partnership initiative between the BBC, Learning on Screen and Jisc, which aims to use technologies innovatively to improve access to the BBC and other public archives in order to enrich the materials available for teaching and study in the UK. Hilary promotes and enables the widest possible use of the BBC's archive. She is a journalist by profession and spent many years working in BBC News and in BBC World Service.
Lez Cooke is Senior Research Officer in the Department of Media Arts at Royal Holloway, University of London and Co-Investigator on the AHRC-funded research project, The History of Forgotten Television Drama in the UK. His PhD, Television Drama in the English Regions, 1956-1982 (Manchester Metropolitan University, 2007) was published as A Sense of Place: Regional British Television Drama, 1956-82 (MUP, 2012) and he is the author of British Television Drama: A History (BFI, 2nd edition, 2015), Style in British Television Drama (Palgrave Macmillan, 2013), Troy Kennedy Martin (MUP, 2007) and numerous articles and book chapters on British television drama. He was Book Reviews Editor for Critical Studies in Television from 2007-11 and is currently on the Editorial Board of the Journal of British Cinema and Television.
Simon Coward has been part of the Kaleidoscope organisation for more than 20 years. Since 2003 he has been co-editor on their Television Research Guide publications, a series of books almost entirely generated from a database system which he created and developed. Away from Kaleidoscope he develops web and windows database-driven applications.
 John Ellis is Professor of Media Arts at Royal Holloway University of London. He leads the ADAPT research project on the adoption and use of technologies in the TV industry, and was previously involved with the decade-long series of EUscreen projects. Between 1982 and 1999 he ran Large Door Productions, which specialised in archival-based programmes about cinema and TV, including Brazil: Beyond Citizen Kane, Distilling Whisky Galore, The Holy Family Album and the Visions series for Channel 4. Some of these can be found at http://largedoorltd.com/ He is the author of Documentary: Witness and Self-revelation (2012), Seeing Things (2000) and Visible Fictions (1982), and blogs regularly for cstonline.tv
Dick Fiddy is a writer/researcher interested in all aspects of British television history and is currently employed as the Archive TV Programmer at BFI Southbank in London. He has scripted and researched various TV archive shows and is the author of Missing Believed Wiped: Searching for the Lost Treasures of British Television.
Dale Grayson is Director of Content Management and Information Policy at ITV, an integrated producer-broadcaster and the largest commercial television network in the UK. As a member of ITV's Senior Leadership Team he leads on all aspects of the company's archive and rights management operations and its metadata and information security policies.
Having worked briefly for the BBC archives in London, Dale went on to study Information and Library Management in Newcastle upon Tyne before joining ITV in 1992 where he has worked in news libraries, commercial clip sales and rights. During a period of considerable global growth for ITV, he has led the consolidation of rights management, archives and metadata expertise into the company's Leeds site, which is now the home of the ITV Archive.
Dale is the Chair of the Royal Television Society's Archive Group and is a Trustee of the Yorkshire and North East Film Archives. He has also been a board member of ISAN-UK and EIDR – two internationally recognised content identification systems for AV works.
 Virginia Haworth-Galt joined 'Learning on Screen – The British Universities and Colleges Film and Video Council' (previously BUFVC) as Chief Executive in 2014. Over the last 3 year years she has overseen a significant organisational restructure, supporting an increased focus on user-need. She has led and managed cultural education organisations for many years. Previously she was the Chief Executive of both 'Music Mark – The UK Association for Music Education' and 'Artswork', the national youth arts development agency. With a track record in designing services and resources aimed at supporting academics, students and arts professionals she is currently directing the ongoing development of Learning on Screen's digital, and other, services. Previously she established specialist national networks, created national training and publications programmes and has designed and delivered a vast array of national and international projects and events including conferences. Virginia has an MA in Independent Film and Television from Central St Martins and a Diploma in Arts Management from Birkbeck University.
John Hill is Professor of Media at Royal Holloway, University of London and Principal Investigator on the AHRC-funded research project on The History of Forgotten TV Drama in the UK. He is the author, editor or co-editor of numerous books and journals on film and television including Big Picture, Small Screen: the Relations Between Film and Television (1996) (co-ed.), The Oxford Guide to Film Studies (1998) (co-ed.), British Cinema in the 1980s (1999), Cinema and Northern Ireland: Film, Culture and Politics (2006) and Ken Loach: The Politics of Film and Television (2011).
John has also been the Chair of the Northern Ireland Film Council (where amongst other things he was involved in the establishment of the NI Digital Film Archive), a Governor of the British Film Institute and a founding Director of the UK Film Council (for which inter alia he chaired the Specialised Distribution and Exhibition committee that led to the establishment of a digital screen network and P&A Fund).
 Lisa Kerrigan joined the BFI as a television curator in 2008, having previously worked for the British Universities Film and Video Council and at the BBC. She selects television programmes for preservation in the BFI National Archive and has worked on BFI projects including Unlocking Film Heritage and BFI InView. She was a curator for the project Visions of Change: TV Documentary of the 1950s-1960s and produced an accompanying DVD box set. She has also contributed to BFI compendiums and Sight & Sound magazine. She advises on academic research into the television collections of the BFI National Archive and is a member of the International Federation of Television Archives Media Studies Commission.
Sue Malden is an Independent Media Archive Consultant (Management & Research). Formerly she was a senior manager in BBC Information and Archives with wide ranging managerial experience – operational line management; policy development; archive selection; research.
Sue is the current Chair of FOCAL International (Federation of Commercial Audio Visual Libraries) a leading body in the commercial audio visual archive business. She is also secretary of the British Entertainment History project (oral history for broadcasting, film, theatre, entertainment, leisure, interactive media and allied sectors); and chair of the board of MACE (Media Archive of Central England). Other current activities include : Advice on Archive Management; Archive Research for TV productions; Training in Archive Research; Conference organization.
Luke McKernan is a film historian and news curator, working at the British Library. His areas of interest include silent cinema, media audiences and multimedia news. His publications include Walking Shadows (1994, with Olwen Terris), Who's Who of Victorian Cinema (1996, with Stephen Herbert), Yesterday's News (2002) and Charles Urban (2013).
Dr Jamie Medhurst is Reader in Media History at Aberystwyth University where he is also Co-Director of the Aberystwyth Centre for Media History and lead editor of the journal Media History. He has published widely on broadcasting history including A History of Independent Television in Wales (2010) and Broadcasting in the UK and US in the 1950s: historical perspectives (2016) which he co-edited with Siân Nicholas and Tom O'Malley. He is currently completing a book on The Early Years of Television and the BBC (which will be published by Edinburgh University Press later this year) and is PI on a Leverhulme Trust Research Project on 'Television and Society in Wales in the 1970s'.
Gabriele Popp has over 20 years' experience working in information and collections management in the cultural heritage sector — from the Royal Academy of Arts to the National Portrait Gallery. In 2006, she was awarded a scholarship to attend the first Cultural Leadership Programme at City University, London. She holds degrees in Academic Librarianship and Cultural History, as well as a Masters in Philosophy. Since joining the BFI in 2008, she has worked on documentation policy and oversaw the implementation of a new Collections Information Database. She played a key role in re-shaping the BFI Reuben Library and led the project to move it to the Southbank.
In January 2014 Gabriele was appointed Head of Collections & Information taking the lead in defining and delivering the strategic priorities for the BFI National Archive in terms of information, data and collections management, preservation and conservation, and developing public access. Gabriele is currently responsible for the Unlocking Film Heritage programme — a £15m investment in film preservation, digitisation and access — and will lead the heritage part of its successor strategy BFI 2022.
Bill Thompson is a well-known technology journalist and advisor to arts and cultural organisations on matters related to digital technologies. He has been working in, on and around the Internet since 1984, and was Internet Ambassador for PIPEX, the UK's first commercial ISP, and Head of New Media at Guardian Newspapers where he built the paper's first website.
Bill appears weekly on Click on BBC World Service radio and writes for a range of publications. At the BBC he handles partnerships for Make it Digital and is Head of Partnership Development for the BBC Archive. He is a member of the boards of Writers' Centre Norwich and Britten Sinfonia, a Visiting Professor at the Royal College of Art and a Visitor at Southampton University. In 2016 he was awarded an Honorary Doctorate of Arts by Anglia Ruskin University. He manages the website Working for an MP (w4mp.org)
Andrew Yeates has been involved with ERA since it was set up in 1989. He was Chair of the Board for 10 years before being appointed as a part-time in-house General Counsel in 2004. He is a Director of the British Copyright Council and chairs the Copyright and Technology Working Group of the BCC. As a member of the Joint Committee for Legal Deposit and the Advisory Board for Save Our Sounds, Andrew addresses challenges for preservation and archive access across different types of catalogue.
Andrew has been Intellectual Property Adviser to the PPA (now Professional Publishers Association) since February 2005. He is the PPA nominated Director on the Board of the Publishers Licensing Society.
Andrew was Director General of the BPI (British Phonographic Industry) the UK trade association for the record industry from 2000 – 2004. Prior to this he worked at Channel 4 for 11 years, holding posts including Head of Acquisitions and Business Affairs, and Head of Rights and Corporation Secretary. Previous posts included Legal Adviser to Phonographic Performance Limited and Contracts Manager for Thames Television, Thames Television International and Euston Films.
John Wyver is a producer of performance and arts media for broadcast, cinema and online distribution. His broadcast productions have been honoured with BAFTA, International Emmy and Peabody awards. He is Director, Screen Productions for the Royal Shakespeare Company and produces the RSC Live from Stratford-upon-Avon cinema screenings. He is Senior Research Fellow in the School of Media, Arts and Design, University of Westminster; he was principal investigator on the AHRC-funded research project Screen Plays: Theatre Plays on British Television (2011-15); and he is the author of Vision On: Film, Television and the Arts (2007). He is currently writing a book about film and television adaptations of RSC stage productions.